As health and safety standards within workplaces increase, particularly within industries around food handling, it is vital to get your commercial kitchen or industrial area set up correctly.
With the increased standards for food handling operations and the set-up of commercial kitchens, we understand how this impacts these businesses. It requires a long set-up period, which can be challenging and expensive for a new company since anti-slip floors and walls must be customised to meet these requirements.
When you're a new business, you're supposed to focus on revenues, not whether the flooring contractors have completed the job properly. That is why at Superior Concrete Finishes, we have made it our goal to be the market leader within the commercial epoxy flooring industry. Our company is committed to ensuring our clients receive timely and quality work that is completed to the highest standards.
What is Epoxy Flooring?
A durable, customisable and sustainable floor solution for industrial operations is epoxy flooring. To finish the floor, resin and hardeners are applied. Concrete of this type can be used in many different areas, including:
Commercial offices
Outdoor flooring (such as stairwells)
Production factories
You will be able to design the commercial space of your dreams while remaining safe, clean, and stylish with a long lasting and hard wearing epoxy non-slip option.
Benefits of installing a seamless epoxy floor:
If you are upgrading your commercial kitchen or planning to build a new one, epoxy flooring is the best and most affordable solution. There are many benefits of installing anti slip flooring into your commercial kitchen:
Durability & Longevity – Commercial kitchen epoxy floor coatings have a long durable life when installed correctly with suitable preparation. Our loyal clients have often mentioned how the floors have still looked new and fresh 5, 8, 10 years even in high traffic areas. If that's not a testimony, what is?
Easy to Clean – Commercial epoxy flooring is the optimal solution for cleanliness. The seamless nature of the floor ensures that spills of any substance can be wiped away with ease.
Stylish & Visually Appealing – Hard flooring is super trendy and in fashion, as this industrial sheik look is in, thus, you can rest assured you are getting a timeless finish they will suit future changes you may make to your commercial premise.
Wide Variety of Colours & Pattern Variations – With a wide variety of colours and styles to choose from, you will find the perfect design to suit your commercial space.
Types of flooring options are available:
There are two options for slip resistant flooring that we strongly advise in regard to commercial kitchens:
Epoxy Coating, or
Epoxy Flake Flooring.
Both of these options are seamless in nature and allow us to bring your kitchen floor to the most optimal and certifiable level for HACCP.
The process of laying a commercial kitchen floor:
After you have hired a company to install your flooring, they will measure the area and discuss with you the type and colour of commercial epoxy flooring you wish to have. After that, they will install it as follows:
Step 1. Grind, Patch & Prime
Captive diamond grinding the concrete to ensure a smooth, clean & porous surface to apply the epoxy coating.
Patch visible concrete cracks and holes.
Apply epoxy base coat.
Step 2. Prime & Flake
Prime using the applicable epoxy base coat.
Broadcasting the flake across the WET epoxy floor coating.
Step 3. Seal Coatings
Two polyurethane coatings to seal the floor, regardless if it is plain or flake flooring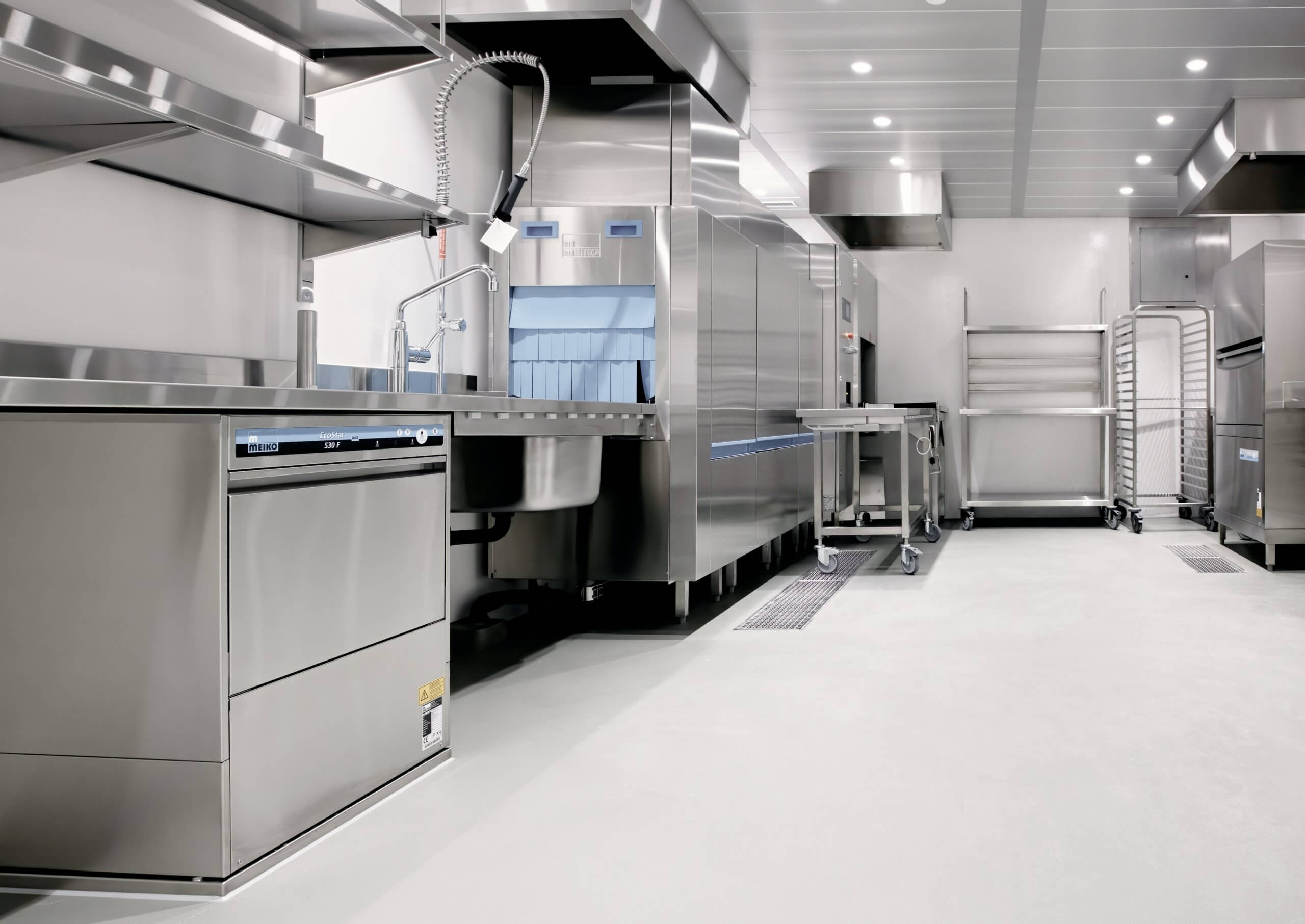 Choosing Epoxy Flooring For Your Commercial Kitchen
That brings us to the end of our guide for commercial epoxy flooring. Remember if you have any questions to ask your local flooring company about their different slip resistant flooring options. You can also use epoxy coatings and flooring for other industrial and residential purposes as it is low maintenance and is durable in high foot traffic areas. Contact our team to find out more today!